by Susan, Education Officer and National Coordinator, United Coalition of Reason
Members of the Connecticut Coalition of Reason were in the front-and-center of the public's eye last week when they hosted a table at the Religion in America 2016 panel discussion, hosted by the Connecticut Forum. This highly-attended conference wasn't a place you would normally find non-believers making their presence known, and with a line-up of well-known and high-profile speakers—Irshad Manji, Jon Meacham, Dr. Jennifer Michael Hecht and Michael Gerson (two Christians, a Muslim and an atheist)—it was an event that was guaranteed to raise questions more than provide answers.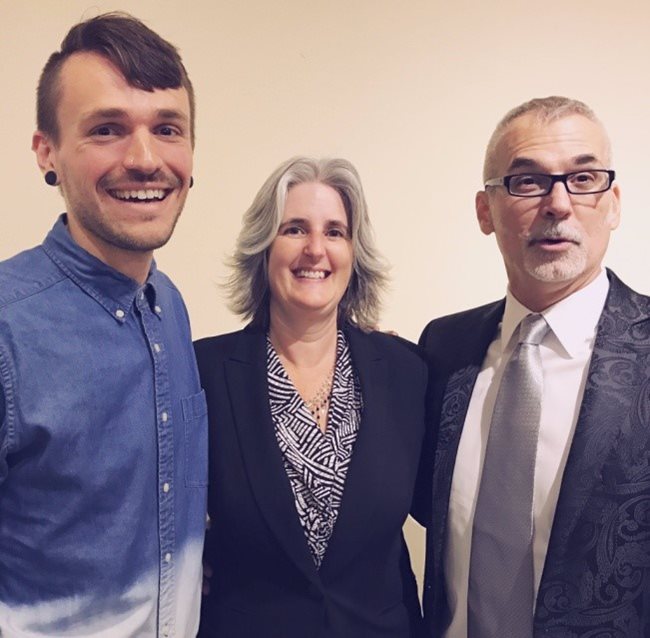 After putting out a blanket call to secular organizations for literature, materials provided from UnitedCoR, American Atheists, the Secular Policy Institute, Freethought Society, Foundation Beyond Belief, Secular Student Alliance and the Foundation for Critical Thinking on Connecticut CoR's table caused quite a stir. People came past, took leaflets, dialogued with the Connecticut CoR members, and from what we saw, made some new friends in their local communities. I remember Pat asking someone, "You didn't know Connecticut is the 47th least-religious state? Have you read the Pew Forum's result?" to which that person found it on their phone, and began to study the statistics—perhaps for the first time ever.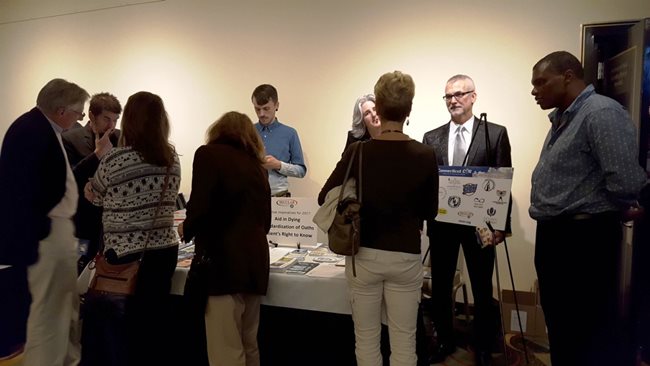 From the look across the people in the balcony, diversity was clearly the goal of the event. We took our seats up in the balcony area along with a variety of people: some in turbans, men wearing a kippah, some dressed in a thobe, others with rock band t-shirts, some in suits and ties, others carrying a glass of wine. The "tribalism" that some have spoken about wasn't noticeable in the theatre, and even the hushed discussion that took place from time to time amongst the audience didn't come across as divisive or ridiculing.
I'll admit that I was pleasantly surprised by some things that were discussed, as it was a different kind of discourse than what we've been reading in the news lately. The presenter, Ray Suarez, was very open about his interest in the role that religion had played in this year's Presidential election, and many of the panellists also joked about certain aspects they felt were ironic between Evangelical beliefs and the lifestyles and personal/political choices of the candidates. Jon Meacham was very open about the "civil religion" in America, even during the service of Pres. Eisenhower, as he remarked that one Cabinet member went on record during a meeting in the mid-1950s "Jesus Christ, we forgot to start with the goddamn prayer!" which brought rapturous laughter from the audience. Irshad Manji spoke openly of how many of the Muslim students she has taught over the years are not afraid to talk about their doubts and disbelief with what they perceive their religion is teaching them, when compared to modern life and social-scientific breakthroughs. Likewise, the panellists were critical of the attempts made by certain groups within the "Christian Right" who have tried to preserve what they consider to be the "Golden Era" through stunts such as Alabama Chief Justice Roy Moore's 10 Commandments monument, or his defiance of Federal court orders regarding same-sex marriages.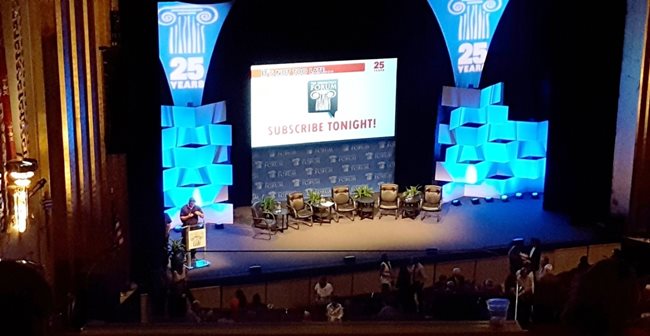 I also felt that there were some missed opportunities during the event. For instance, when Hecht questioned Manji, "What is your god like? Give me some attributes", and Manji admitted "I don't know," it was a perfect opportunity to mention that groups like Muslimish has members with similar questions. During one conversation, Gerson said that he thought there had been a balance between the role of religion in Government and vice versa, and this statement could have been countered by asking why some groups want to rework critical legal precedents such as The Johnson Amendment that helps maintain this balance. When the conversation focused on communities and how there is a growing number of religiously-unaffiliated Millennials, the speakers could have been shown how non-theistic communities such as Kansas City Oasis, Sunday Assembly and various chaplaincies across the US are growing and benefitting from this decline of mainstream religion.
As we were about to leave The Bushnell Theatre, a lady came past the table. "Good to see you again, Pat. Take care." I asked Pat if she was part of the Connecticut CoR. "No. Actually, she's a Lutheran minister. I spoke to one of her Confirmation classes some time ago about what it means to me to be an atheist." Although not everyone is willing to provide this kind of an outreach, clearly it has worked well for members of the Connecticut CoR, and perhaps this is one of many reasons their table and outreach at the Connecticut Forum was so well-received. We know that the folks in Connecticut CoR are planning a large political action for March 2017 with the help of the Secular Coalition of America. We look forward to see how the CoR's new connections and community partners will help their work and activism in a few months' time: hands that had previously been clasped in sectarian prayer are now joining hands with people in Connecticut CoR to prepare for collaborative work.